February is a really short month. 28 days and lots of holidays for the kids. We celebrated Chinese New Year and welcomed the year of the snake before settling into Lent.
#1 We ate out a lot!!
The kids had lots of fun having breakfast at the airport. We went there twice and tried out a few yummy Dim sum restaurants this month.
#2- Dim sum is a must if you are looking for a place to go for breakfast.
Egg tarts are Doggie boy's personal favourite and he can easily eat the whole plate by himself. We have to order double or triple servings if everyone were to be able to have a bite each.
#3 Saving money and  eating healthy is  important.
Doggie boy loves eating blueberry pancakes and we have been buying them from KFC. It makes much more sense to make them at home as it is much cheaper and more economical. It is also much healthier as there are no preservatives and in line with my eating healthy aim.
 #4 Spending time as a family is important.
The kids had fun learning about precision  while learning how to play pool from their dad.  I hope in time to come they will be good in the game and the four of us can play tag team.
# 5 Observing traditions is also important
We went visiting during Chinese New Year and the first stop was at the kids great grandmother's house for a lunch feast.
#6- I took note of Tiger girl's recent developments
I wrote a letter to her to tell her about how much I appreciate having her in my life.  I want her to know how much she is a joy to me and that I really love her a lot.
#7- My eldest started work as a Budgettng accountant.
Monkey boy can no longer demand an allowance and he has to work for it. He is being paid now for doing his job as an accountant.  Earn your keep is the new mantra I am practicing with him.
#8- Fun in the park is really a good way to spend the weekend.
Tiger girl really loves the swings. While we were at Pasir Ris Park she had a go at the bucket swings there while her brothers rode around on the  rented bikes.
#9- Tiger girl learning a new skill.
This month Tiger girl had been introduced to a new educational toy- the puzzle. She enjoys fixing these 3-6 piece puzzles which were handed down from a dear friend of mine. She can complete the puzzles within minutes now.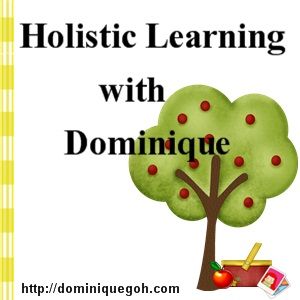 # 10- A new year long series was launch on the blog.
This month I started a new series- Holistic Learning with Dominique where I document my journey with the boys to a more holistic education with each one of them.  So far I have documented Monkey boy's job while I will sharing Doggie boy's job in the coming month.
How was your February?