January an extremely busy month. We celebrated New Year twice!! Chinese New Year was on the 31st of January and it was
the 2nd time we welcomed in the new year in the same month. It was also the month that Tiger girl started her first swim lesson.
Tiger girl and Doggie boy visited one of the newest indoor playground in town- Polliwogs at Vivo City. They had lots of fun there playing with the new playscape and meeting fellow blogger friend kids there.
I shared some photos of the places we visited in December when we were in Japan. Shiriato falls was one of the places that we visited. It had one of the most magnificent waterfall which I have seen.
Even though it was winter and cold in Japan I enjoyed myself eating gelato while on vacations. I do enjoy having ice-cream now and then.
The kids and I visited Kumanokoita Shrine during our holidays. It was the first time that we visited a Japanese shrine. It was much different from the various temples and churches which we have visited before.
January was a month to implement changes as it is the start of a new year. This year I am focusing on a more healthy lifestyle and shared how it has been for me choosing between chocolate milk and green tea.
Spending time with the kids and having fun is something that I like to do. They are only kids once and I feel that it is very important that they have a good childhood.
The kids and I are eating more vegetables at home. I've started introducing them to salads and a wide variety of foods.
Having ME-Time is something which I cherish. It is great that I get pockets of time each day to rejuvenate myself and plan and schedule things that need to be done.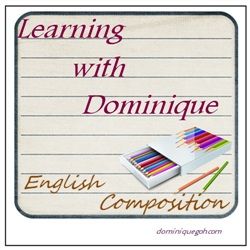 I've started a new series on the blog- Learning with Dominique (English Composition). English composition is one of the most difficult component in English for students and to be able to score well in this area will certainly help one do well in institutes of higher learning in the future.
How was your January like?