In the first part  of this post I gave a introduction to Monkey boy's character and his abilities as a 10 year old.  In the 2nd part of the post I'll be sharing with everyone  how I plan to help Monkey boy over come his fear of failure.
The need for wanting to change and overcome this stumbling block has to come from within to be successful. No amount of encouragement and help will be able to initiate the change unless he himself renders it possible.
As a parent the best that you can do is try to persuade and guide him  on how to take the first step. You also need to provide him with  all the necessary tools that he will need for this transformation to occur.
There are a few things which one can do when you feel fearful.
 You can create a safe place in your mind of psychically where you can retreat to in your time of need.
You could extend loving support to yourself as you would to a good friend.
Listen to soothing music or your favourite music.
Practice gratitude by giving thanks for all your blessings.
Visualize yourself as your favourite superhero.
It may be difficult for a ten year old to understand all the concepts mentioned above but I will be walking him through each and every one of them using age appropriate examples.
Together with Monkey boy we will choose which item(s) on the list he is most comfortable with and practice it together with him.
It is all in the mind and he needs to learn how to control his own emotions to be able to overcome the fear.
The aim is to get around the fear and focus on ~ I CAN DO IT!!
Monkey boy has to take a stand and know that there is a difference between what he wants and what has to be done to achieve the desired result.
Positive Affirmations are what I will be working on with Monkey boy on a daily basis.  I will be getting him to write out two to three affirmations which we will paste at his bedside so he can look and read it out aloud twice daily- when he wakes up and before he goes to bed.
Check back in a few weeks where I will be updating this space on how the Positive Affirmations have been working for Monkey boy.
In the next post in this series I will be focusing on my #2 son- Doggie boy and the issues that we are currently facing with him.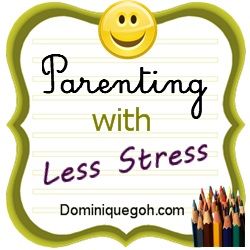 Post in this series
– Parenting with Less Stress ( An Introduction)
– Teaching Kids about coping with the fear of Failure (Part 1)
– Teaching Kids about coping with the fear of Failure (Part 2)
– Encouraging a Struggling Learner (Part 1)
– Encouraging a Struggling Learner (Part 2)
-Dealing with a Strong Willed Child (Part 1)
– Dealing with a Strong Willed Child( Part 2)