It has been a while since I last updated about Monkey boy's progress with his job as a budgeting accountant. It has been slightly more then a month since he started his job and it hasn't been all that rosy for him.
Twice he had his weekly pay docked by $2 as his accounts were not in order.  He didn't not keep the receipts that were given to him and missed out recording some items.  Through these episodes he has learned how important it is for him to do proper recording and keeping a tab on his work.  Being slip-shot and not completing task  when given a deadline is also not tolerated in the working world.
Monkey boy learned first hand that being diligent and efficient is essential to getting his work task done promptly.  He has to have good time management to be able to complete both his school work and his budgeting assignments within the given week.
We  visited the library and borrowed this book for Monkey boy to read. It gave him a general guideline about what types of Money habits we wish to inculcate in him. We also read up online on how money came into existence and evolved to today's dollars and cents.
In the coming months I'll be teaching him how to do cost analysis and how to handle the usage of cash based on various case scenarios given to him.
In the next post on Holistic Learning I'll be sharing what I have done with Doggie boy so far.
If you are interested to read all the post that  have been posted in this series so far click on the button below and it will lead you to the consolidated list.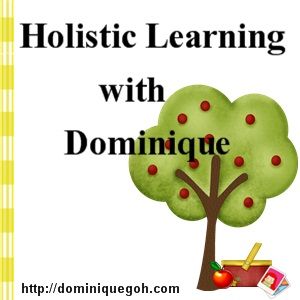 What has been on your mind this week? Do share in linky below with your post.