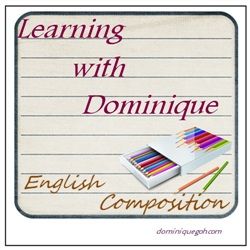 In the last installment I touched on the Common Mistakes which students may have while writing their English composition. In this final post in this series I and ending off with the changes that will be happening to the English Composition in the  PSLE(Primary School Leaving Examination) come 2015.
Traditionally the picture  composition which a student is supposed to write  on consists of 3 related pictures and one question mark at the end depicting an open ended conclusion. There are some helping words given at the bottom of the page which you may/may not include depending on its relevance to what you are writing about.
This will all change come 2015.
Next year you will no longer have three pictures depicting the different chapters of a story but three non related photos put together to talk about.
You can choose 1 or 2 or even 3 of the pictures to describe in any order you fancy.
For example
–  Picture A + B
– Picture A + C
– Picture A + B + C
– Picture C only.
The benefit of having such a format is that you are free to develop the story the way you like and there is virtually no risk of you writing out of context.
The student is given more freedom  to create his own unique storyline and is only limited by his creativity. With the new changes a student needs to be able to tap on his own vast knowledge and apply it to the essay that he is writing.
For example using the pictures given above it is possible to write an essay focusing on the following.
– A girls' outing to the zoo.
– My experience with a hippopotamus
– The Monster (Alien) Bee
– Girls which are actually bees in disguise
– Things are not what they seem
As you can see anything is possible as long as your thoughts are explained in a logical manner and the story that you write is captivating.
How can one prepare a student for the new format in English Composition?
1)Read widely
One has to be exposed to the various different genres available.  Action, adventure, comedy, crime, faction, fantasy, mystery, science fiction and non-fiction books. At present most schools are using the STELLAR program to introduce the different  genres of writing to the students.
2) Encourage creativity in expression
Here is where speech and drama come into play.  Being dramatic and able to express ones feeling is certainly  beneficial towards composition writing. If the student is able to personally feel how the character felt- scarred, happy, worried etc it would be easier for him to pen it down in words.
3) Encourage free play
Through free play a student is able to come up with his own ideas by incorporating his past knowledge and experiences.  It makes him think critically and analyze the situation at hand.Thinking out of the box is promoted and the right brain is stimulated.
Post in this series
1)Learning with Dominique- English Composition(An Introduction)
2)English Composition – Understanding the Rubrics(Part 1)
3) English composition- Understanding the Rubrics(Part 2)
4) English Composition- Common Mistakes
5) English Composition- The changes to PSLE  come 2015