Last month  I was invited on a  Cook For the Family initiative by Daniel. I have been cooking regularly for the kids during the week since they were born.  I feel that I am in more control of the types of food that they put in their body and it will be easier for me to introduce healthy foods to them if they ate at home.
The kids love baked potatos and soups. I've been trying out different soup recipes from the  cook books that I borrowed from the library. A few weeks back I tried my hand at making pumpkin soup for them.
It doesn't take a long time to prepare the meal. It took me about an hour to bake the potatoes in the oven while it only took half and hour to make the pumpkin soup. I prepared the potatoes and popped them into the oven first before working on the soup as it took a long time to cook.
I have tried  various toppings with the baked potato before. However the kids all agree that the Japanese Mayo with bacon bits tasted much better then it with sour cream.
We have baked potatoes at least once a week at home. Most of the time it is accompanied on the side by boiled greens  and soup.

What have you been cooking for the family?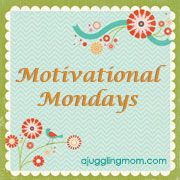 (Linking up with Motivational Mondays to find more inspiration to try out new recipes at home with the kids)