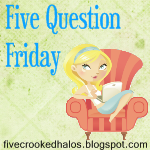 Today I'm going to try out this meme which I have seen around on the blogs that I visit.
1. Where did you meet your spouse and did you instantly know it was love?
When I was studying over in Melbourne during my Uni days. I kind of knew that he was the one when I saw him. I even told a good friend back then when he asked me if I am certain that I will end up with R- Definitely Yes.
2. What is your favorite room in your house?
The bedroom.
3. Can you wiggle your ears?
No, I can't.
4. What is your evening ritual?
Feed the kids dinner, make sure all of them are bathed and changed into their pyjamas, supervise homework/piano practice, check that their bags are packed, bedtime storybook reading and put them to bed.
5. How many hours of sleep do you need to function?
Absolutely no idea. I don't think I do get enough sleep though. The baby still wakes up 4 times a night to nurse. The elder kids do wake up sometimes to use the bathroom and it sometimes wake me up too as I'm quite a light sleeper.