This week has been a real roller coaster ride for me. Firstly our kitchen and bathrooms are being renovated and it's really inconvenient using the bathroom sink to wash the dishes.  We have been eating takeouts as it is not easy to cook with the renovations going on.  I'm so looking forward to next week as I will get my fully functioning kitchen back and have home cooked meals.
Doggie boy has been down with fever these few days and it's really exhausting taking care of him as his temperature tends to spike at night. It's bad enough that the baby still wakes 4 times a night to nurse and  I have to monitor his temperature too.  I can't wait for hubs to be back from his 3 week long work trip overseas.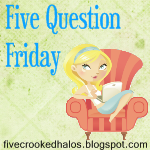 1. Do you and your spouse go to bed at the same time?


No. We try to but it's difficult as he sometimes works late on his computer and I fall asleep first after getting all the kids settled in their beds.
2. A question for the ladies…What kind of facial hair do you like on your man?
Clean shaven. I'm not really into hairy guys.
3. What's the worst vacation you've ever taken?
I'm lucky that so far the vacations which I have been have been enjoyable. Not worth fretting about stuff which was less then ideal on a vacation.
4. What's the first-ever blog you followed?
Frankly speaking I can't remember. I think it was either Problogger or SimpleMom.
5. Do you enjoy amusement parks?

I like the low intensity rides and the fun games there.
Not so into roller coasters and heart stopping ones.
This week I'll let Tiger Girl ask the questions?
Tiger Girl & Doggie Boy
Can you guess which baby  is in the following pictures?
( Monkey Boy, Doggie Boy or Tiger Girl)
What is the baby in collage three eating?


Collage One
Collage Two
Collage Three
Do drop me your answers in the comments section below. I'm looking forward to reading about your guesses.
*Hint* – Refer to this weeks posts on High Chair Shots to get a clearer idea of who's who.