August has always been a special month for me.   It is my birthday month and I get to indulge in treats that I have been holding back for the rest of the year.
August is the month when I look back at the past year and count my blessings.  Showing gratitude is important and  reflecting on my growth for the past year I'm glad with the decisions that I made back then.
I have increased my knowledge and perused  all my passions in education, cooking, photography and psychology.  Constant learning is extremely important to me as it helps shape me into a better person.
August was a month where the kids and I had new experiences. It was the first time that we attended a fashion event  which was hosted by Uniqlo. They got to get up and close with models and understand how they do their job.
We also saw the latest collection and are looking forward to adding a few more pieces from that collection into our wardrobe.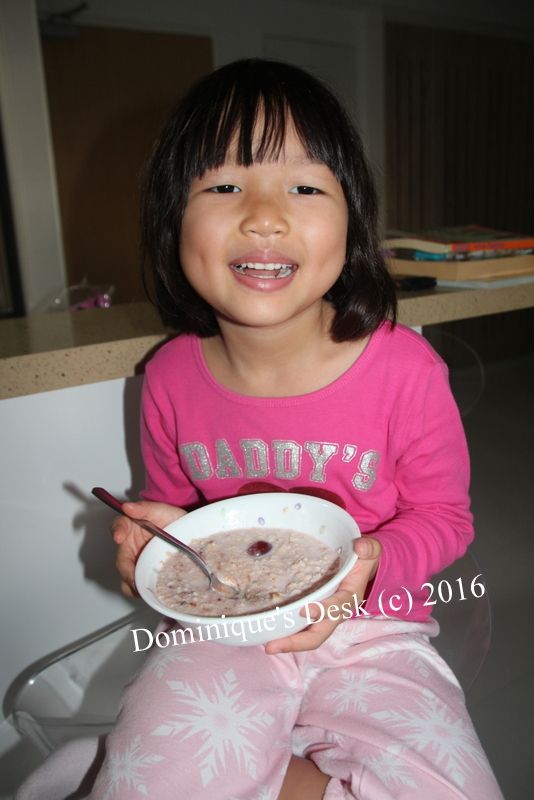 Tiger girl with her bowl of oats
I made some adjustment to the breakfast routines and incorporated  Oats among other items to let them have a good start to each day.  Healthy eat is what I'm seriously focusing on this year.
Trying out new/ different restaurants have always been something the kids and I love to do. This month we went to the Hello Kitty Restaurant to have a meal. The food wasn't really top notch and it was more for the ambiance then to satisfy  our palette. I'll be replicating some of the dishes that we ate there at home for the kids.
How was the month of August for you?