Monkey boy and Me
Bleah.. I'm sure that's how Monkey boy is feeling as he will be returning back to school next Monday. School vacations are officially over and it's time to brush up on all the academic subjects and learning. We didn't  get around to doing any abacus practice and learning more Japanese but we did get started on English and Chinese composition writing and had lots of fun.  Monkey Boy is looking forward to our next holiday in July when we go on a short weekend staycation at a local hotel.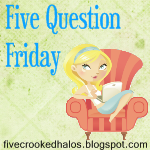 1. What is your current favorite tv show?
I don't have any ..does the NEWS count? I enjoy Sci-fi and investigative shows like C.S.I but I rarely have time nowadays to watch the telly.
2. What's the worst haircut you ever got?
It would been the time I was in Melbourne as a student. I can't really remember what hairstyle was that but  recall that I went immediately to another shop for a re-cut.
3. What was something that you did as a child that you thought you were so cool for doing?
Traveling overseas with my classmates on a student exchange program to Taiwan. It was really fun and it was the first time I traveled without my parents.

4. Do you have any GREAT frugal family fun tips?
Baking, visits to the park, going swimming or bowling.
5. Would you drive across country if you had the money to fly?
I would certainly fly as I really doubt that I will be able to remain sane on a long road trip with the kids.  We live on an island so any road trip will involve driving up to Malaysia which at the moment I'm not keen on.
My questions this week
How do you persuade a reluctant kid to pick up his pencil and write?
What enticement  work for your 5yr old?